Soon after the Supreme Court ordered a floor test for the BJP government in Karnataka, Chief Minister B S Yeddyurappa said that he was "100% confident" of proving his majority.
However, the letter submitted to Governor Vajubhai Vala to stake a claim for forming the government only states that the BJP has won 104 seats and that Yeddyurappa has the backing of "other" MLAs, without providing further details.
The Supreme Court had in its historic midnight hearing sought the letter. Former attorney general Mukul Rohatgi, appearing for Yeddyurappa, submitted the letter on Friday.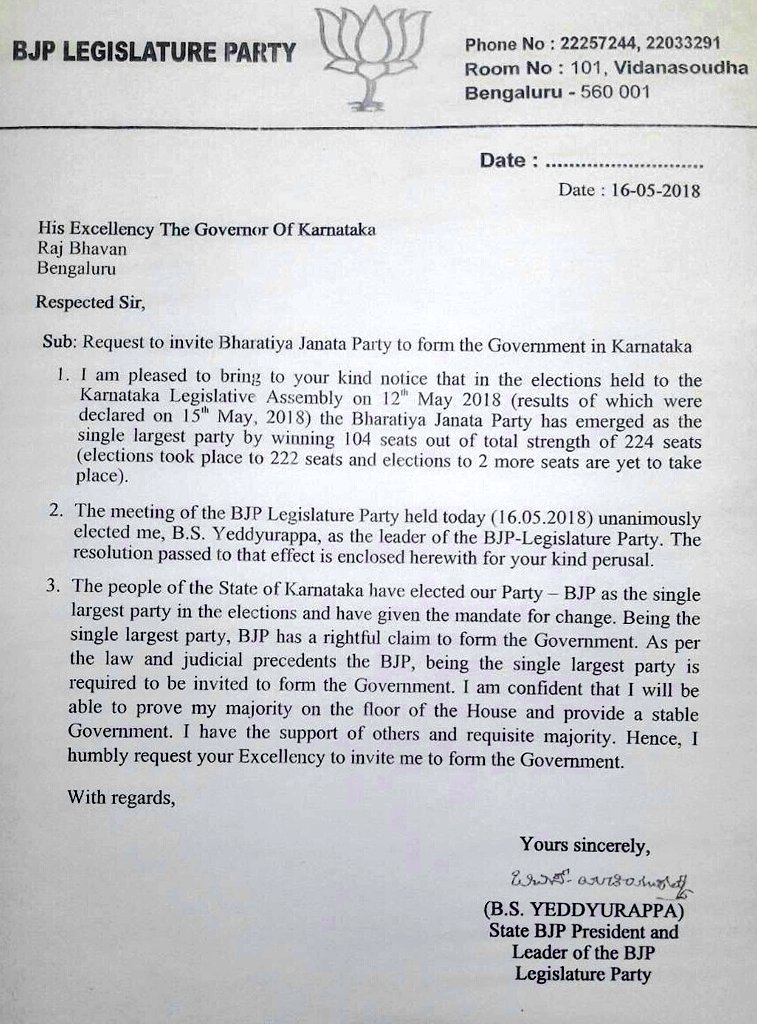 "We will obey the SC order. I will convene an emergency Cabinet meeting now to convene the Assembly tomorrow (Saturday). We will get a full majority. I'm 100% confident," Yeddyurappa told reporters.
Here is the letter by @BSYBJP #BSYeddyurappa to claim support of requisite MLAs .

The letter was sent to Governor on May 16 pic.twitter.com/TEzACjJung

— AshishTripathi (@Ashtripathi13) May 18, 2018
Following a fractured mandate, the Congress made a swift move and announced full support to the JD(S) to form a coalition government with a numerical strength of 117 - Congress has 78, the JD(S) has 37 with two others supporting the combine. Both parties shifted their legislators to Hyderabad to keep them from being poached by the BJP.
"BJP is ready and confident of winning trust vote In Karnataka. We will prove our majority on the floor of the House," Union minister and Karnataka in-charge Prakash Javadekar tweeted.
The Supreme Court order came as a jolt to Governor Vajubhai Vala who gave 15 days to Yeddyurappa to prove the majority.
The BJP party managers have been in touch with some MLAs of the Congress and the JD(S)-BSP, which formed a post-poll alliance to stake a claim for forming the government. The Congress has given support to the JD(S) saying it had no problem in the regional outfit's leader H D Kumaraswamy becoming the chief minister.
The BJP would look for cross-overs from the Congress and the JD(S) or at least abstentions to bring down the majority mark. However, it appears difficult as at least 15 MLAs need to abstain.
The Congress-JD(S)-BSP combine has herded its MLAs together to ensure that the BJP does not reach out to them and strike a deal.