Celebrities and who's who rubbed shoulders with commoners during the fourth and final phase of polling in Maharashtra on Monday. 
Hindi film industry stars, Marathi film and TV personalities, sportspersons, icons and captains of India Inc were seen standing in queues to vote and get inked. 
Bollywood star Amitabh Bachchan, cricketing icon Sachin Tendulkar, playback singer Asha Bhosale, Tata Sons chairman N Chandrasekaran and Mahindra & Mahindra chairman Anand Mahindra voted.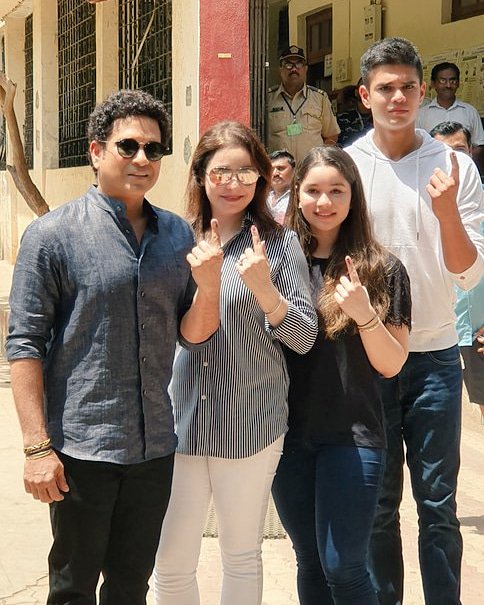 Candidates of ruling BJP and Shiv Sena and opposition Congress and NCP and other parties too voted with their families.
NCP supremo Sharad Pawar voted in Mumbai.
Businessman Anil Ambani, who was the focus of attack of Congress president Rahul Gandhi, voted in Colaba. 
Naresh Goyal, who recently had to exit from crisis-ridden Jet Airways too voted in Mumbai.
The hustle-bustle of media was mostly in Bandra, Vile Parle, Andheri, Goregaon where several film and TV personalities exercised their franchise.
Celebrities obliged photographers and also posted photos and videos on Twitter, Instagram and other social media platforms.
RBI governor Shaktikanta Das too voted in Mumbai.
"Every vote is a voice that counts," actress Priyanka Chopra tweeted. "Voting is our right, lets use it wisely," said Madhuri Dixit Nene.
Bachchan was accompanied by his wife Jaya Bachchan, son Abhishek and daughter-in-law Aishwarya Rai.
Tendulkar tweeted with wife Anjali and kids Sara and Arjun, who are first-time voters. 
The Khan trio - Shah Rukh Khan, Salman Khan and Aamir Khan too voted and so as their family members. Actors Ranveer Singh and Ranbir Kapoor too voted in Mumbai. Actor-activist Rahul Bose returned from a shooting from Hyderabad to vote.