Monsoon Updates Highlights: Godavari flood in Andhra Pradesh breaches 25 lakh cusecs mark after 16 years
Heavy rain continued to batter several parts of the country triggering flood-like situations and waterlogging. Track DH for live weather-related updates.
Heavy rainfall in East Rajasthan, more rains expected in next 4-5 days: MeT dept
Heavy rainfall coupled with thunderstorm occurred at isolated places in East Rajasthan while several places received light to moderate rain in 24 hours ending 8.30 am on Sunday, the weather office said.
Two Odisha districts reel under floods
With heavy rain continuing to batter several parts of Odisha on Sunday, at least two districts are reeling under floods, while a landslide has been reported in another, officials said.
The flood situation in Motu area in Malkangiri district adjoining Andhra Pradesh remained grim as backwaters of Godavari River inundated several villages, affecting many people.
Telangana CM visits flood-affected areas, participates in review meeting on Godavari floods
Widespread light/moderate rainfall likely over Arunachal Pradesh, Assam and other states
Road connectivity disrupted at several locations due to heavy rains across Karnataka's Uttara Kannada district
Indian Navy choppers continue relief ops in Andhra Pradesh's Eluru
Godavari flood in Andhra Pradesh breaches 25 lakh cusecs mark after 16 years
The ferocious Godavari has left the lives of over two million people crippled in six districts of Andhra Pradesh as thefloodflow crossed the 25.60 lakh cusecs mark on Saturday night, the highest discharge at Sir Arthur Cotton Barrage in Dowaleswaram after August 2006
Army personnel drain water from a rain affected area in Rajasthan's Sri Ganganagar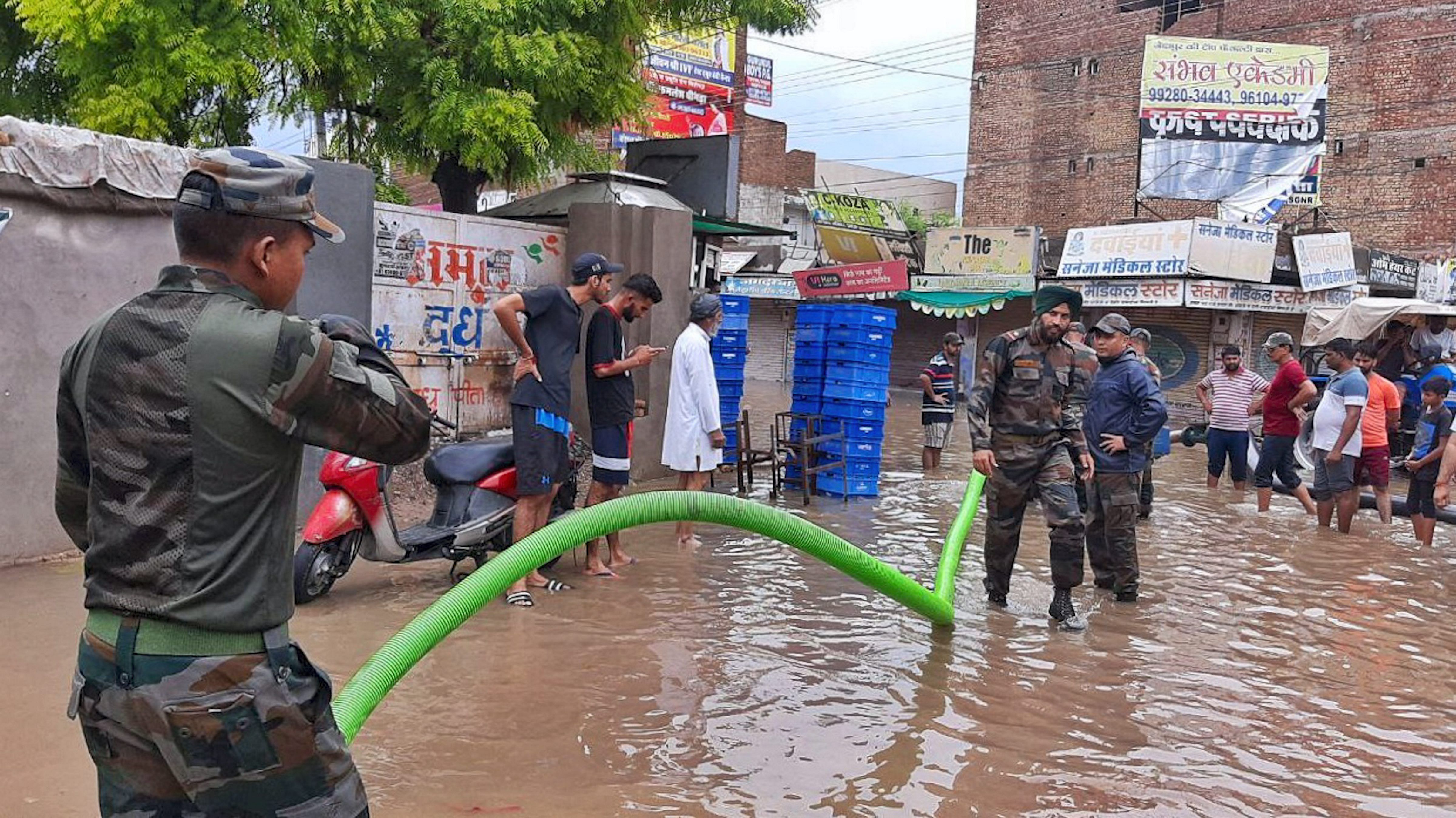 Heavy downpour in parts of Delhi
Depression off Saurashtra to re-curve towards Oman, not to impact rains in Gujarat: IMD
With the depression over northeast Arabian Sea off the Saurashtra coast very likely to move north-northwestwards along and off Saurashtra and Kutch coasts and the sea, the India Meteorological Department (IMD) on Saturday evening said thereafter, there will be no adverse impact of this system on rainfall over Gujarat.
(Published 17 July 2022, 02:34 IST)