Karnataka Gram Panchayat election highlights: Dharwad district reports 63.96% polling at 3 pm
A total of 3,019 panchayats in 117 taluks across Karnataka go for polling in the first phase of Gram Panchayat elections today, amid the coronavirus pandemic. Polling will be held from 7 am to 5 pm in over 23,000 booths. Those who have tested positive or under primary/secondary contacts can vote in the last hour of polling. The second phase of polls is scheduled on December 27. Counting for both phases will be held on December 30.
Dear readers, thank you for following DH's live coverage on the Karnataka Gram Panchayat polls.
We will be back with more updates on the second phase. Meanwhile, for more latest news and updates, click here.
A policeman carries an elderly voter as others stand in a queue to cast their votes at a polling station during the first phase of panchayat elections, near Chikmagalur.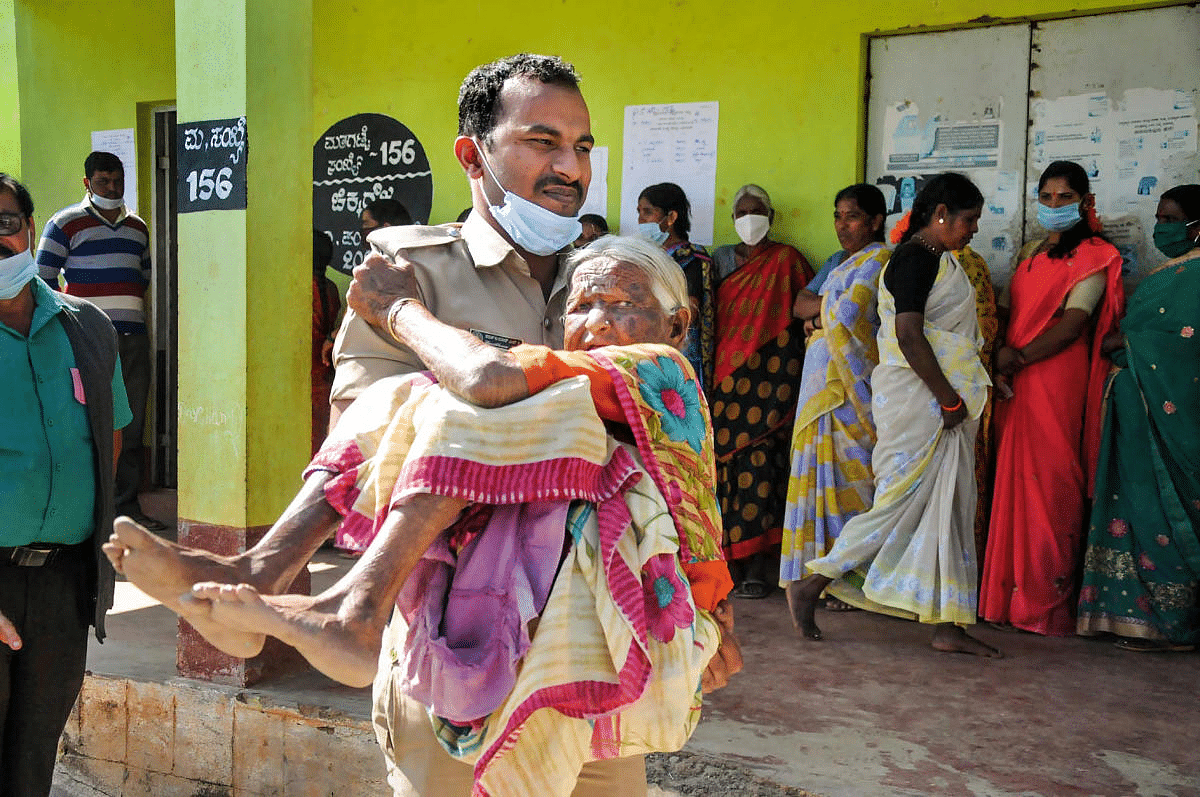 Hassan polling at 70.20% by 3 pm.
Mysuru reports 62.6% polling till 3 pm.
Dharwad district reports 63.96% polling at 3 pm.
Chamarajanagar taluk polling at 67.02%, Gundlupet reports 57.35% at 3 pm.
Mandya parliamentarian Sumalatha casts her vote in the Gram Panchayat polls at a booth in Doddarasinakere village in Maddur taluk of Mandya.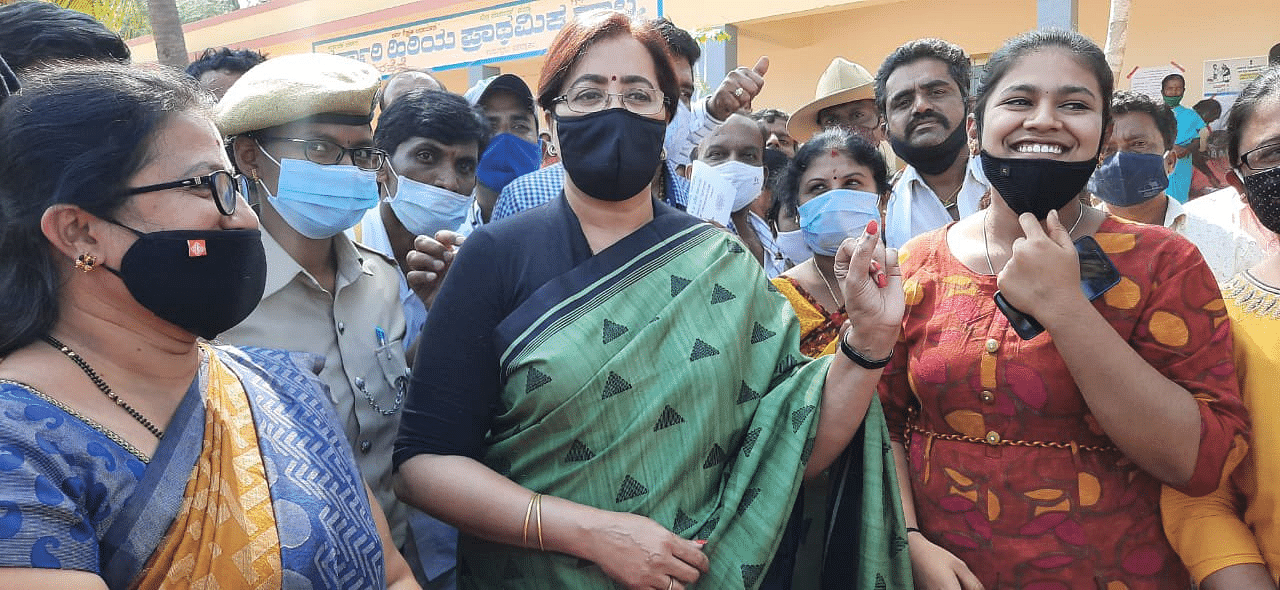 Veteran actress Leelavathi and actor Vinod Raj cast their vote in No 167 of Mylanahalli in Nalamangala taluk. Credit: DHPhoto/B H Shivakumar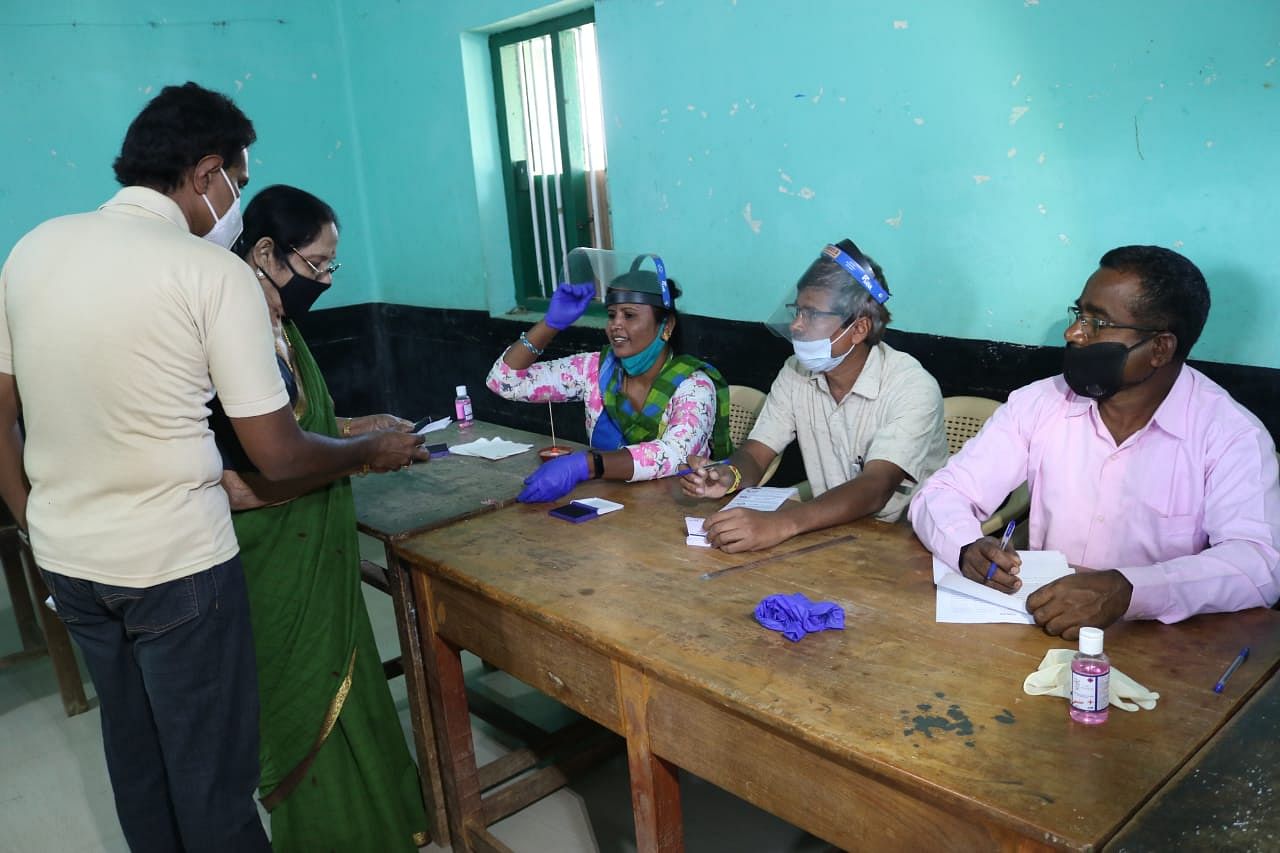 Until 11 am, Belagavi taluk recorded 23.1% polling, Khanapur 9.36%, Hukkeri 20.5%, Bailhongal 7.92%, Kittur 22.36%, Gokak 20.52% and Mudalagi 24.99%.
(Published 22 December 2020, 04:01 IST)